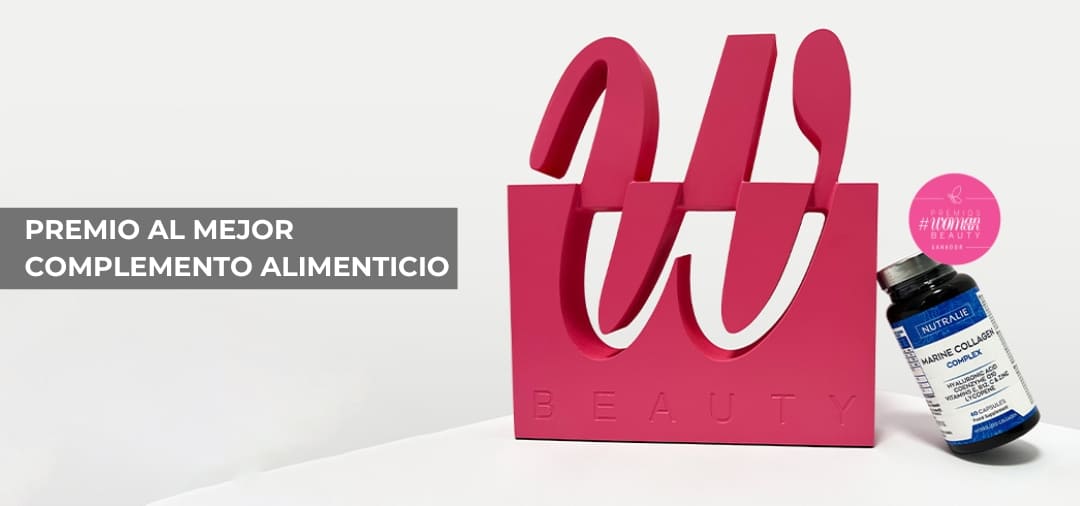 The jury of Woman magazine has valued the quality, efficacy and contribution to the new conceptions that have changed the world of cosmetics and has awarded Marine Collagen ComplexMarine Collagen Complex as the best Food Supplement in this second edition of the Woman Beauty Awards.
MARINE COLLAGEN COMPLEX, TRANSFORMING THE BEAUTY SECTOR
Marine Collagen Complex It has already conquered many of our customers and is being one of the most highlighted products by the media. On this occasion, it has also been awarded by one of the best magazines on the current scene, and has positioned itself alongside other major brands with many years of travel and recognition. 
The awards ceremony took place in Madrid and the co-founder of the company, David Garcia, represented the entire team collecting the award and highlighting once again our intention to continue putting people at the center of all our decisions to write a better future for the food supplements sector.
For the team of Nutralie It has been a great pleasure to receive this award and we are very proud that our Complex formulations are highly valued for theirquality and innovation within the beauty and nutricosmetics sector.
THE MARINE COLLAGEN FORMULA, IDEAL FOR FIRM, HYDRATED AND MORE ELASTIC SKIN
Over the years our body stops making collagen and that can affect the appearance and health of our skin. It is important to provide our body with enough collagen and other nutrients to slow down the aging process of the skin and achieve a radiant, healthy-looking skin.
The COMPLEX formula of Marine Collagen has been combined with 8 actives that act in synergy to enhance the health benefits of our skin, 2 of which are hydrolyzed marine collagen and hyaluronic acid. 
Hyaluronic acid has a high capacity to retain moisture and provide deep hydration to the skin, properties that are enhanced with marine collagen, in such a way that together they help this hydration to be more effective and the skin has asmoother appearance. 
In addition, collagen is a protein that helps strengthen the skin's supporting structures, which contributes to reduce the appearance of wrinkles and sagging. These beneficial effects are combined with hyaluronic acid's ability to support skin elasticity by keeping it hydrated, which promotes it to improve its overall appearance.
8 ACTIVE INGREDIENTS THAT HELP MINIMIZE OXIDATIVE STRESS
One of the external agents that most affects the appearance of our skin is the sun, since UV rays have very harmful effects on the health of the skin. Since we are exposed to these rays throughout the year, and not only in summer, it is essential to support the body with vitamins and nutrients that help protect it.
That is why in the formula of Marine Collagen Complex B vitamins, vitamin C and vitamin E have been combined with lycopene, as they are powerful antioxidants that work together to neutralize free radicals and protect the skin from environmental damage, such as sun exposure and pollution.
COLLAGEN, ESSENTIAL IN THE PROCESS OF TISSUE REGENERATION
Collagen is an essential protein for the structure and regeneration of tissues, including the skin. Coenzyme Q10, hyaluronic acid, lycopene and vitamins B and E present in Marine Collagen Complex they help stimulate the production of collagen in our body by activating the cells responsible for its synthesis, which is highly beneficial for the regeneration and repair of the skin and other tissues.
MARINE COLLAGEN COMPLEX ALSO OFFERS JOINT HEALTH SUPPORT
Collagen is especially known for its role in joint health, as collagen is a major component of your tissue. Coenzyme Q10 and hyaluronic acid also offer joint health benefits by reducing inflammation and providing lubrication to joints.
Marine Collagen ComplexIt also covers other needs, such as support for joint health. The active ingredients present in its formula, such as marine collagen, coenzyme Q10 and hyaluronic acid, play a fundamental role in joint health and have multiple properties:
Contribute to improving joint lubrication and maintaining flexibility
Marine collagen, type II, helps maintain the health of joint cartilage
Possess anti-inflammatory properties
Stimulate collagen production
THE SECRET TO GLOWING SKIN: MARINE COLLAGEN COMPLEX!
If we still haven't managed to convince you to tryMarine Collagen Complex, we invite you to take a look at our website and encourage you to try it once and for all, as it can become your perfect ally to achieve firmer and more radiant skin.