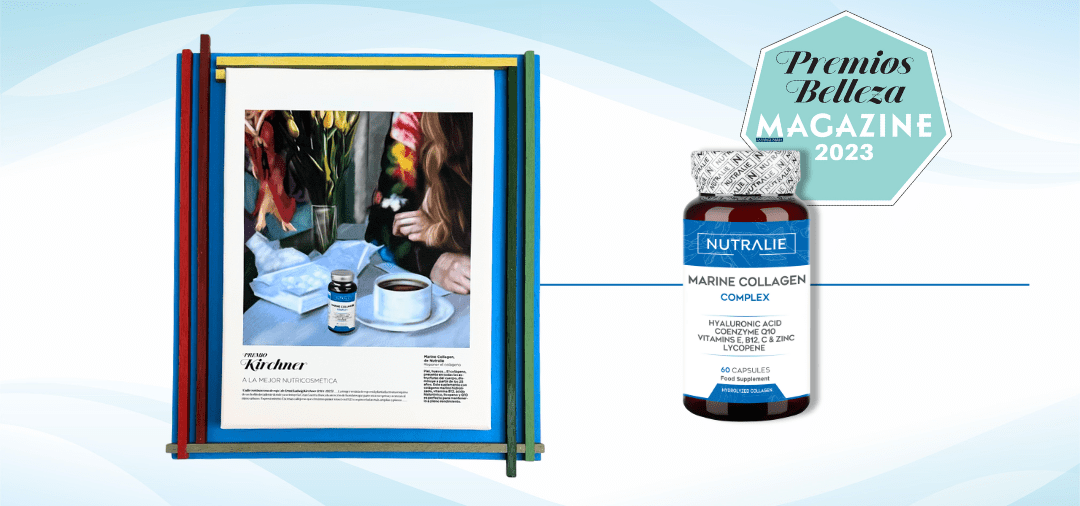 Award-winning and recommended: Marine Collagen Complex wins Magazine's recognition for its impact on beauty and health
On 12 June, the 2023 Beauty Magazine Awards invitied Nutralie to the Thyssen Bornemisza Museum to award Marine Collagen Complex the prize for Best Nutricosmetic Product in the beauty sector. Nutralie was also one of the guests of honour at a gala intended to give visibility to innovation and design in cosmetics
A WELL-DESERVED AWARD: MARINE COLLAGEN IS RECOGNISED FOR ITS QUALITY AND BENEFITS BY MAGAZINE
Our Marine Collagen Complex doesn't leave anyone indifferent and continues to receive recognition from the most prestigious magazines nationwide, going up on stage second time to collect an award for best food supplement and best product in nutricosmetics.
On this occasion, the Magazine supplement of the La Vanguardia newspaper, both part of the Godó group, hosted a celebration of great brands in the sector, with the aim of rewarding them for valuing the link between art and beauty and giving visibility to innovation and design in cosmetics. The jury chosen by the magazine decided to give this award to Marine Collagen Complex, which joins the award received last month from Woman magazine in the last Beauty Awards.
These awards have been received with great enthusiasm by the entire Nutralie team as they testify to our efforts to make available very comprehensive formulations using high-quality ingredients widely available, thus contributing to people's well-being.
THE MARINE COLLAGEN FORMULA, IDEAL FOR FIRM, HYDRATED SKIN WITH GREATER ELASTICITY
Over the years our body stops making collagen and that can affect the appearance and health of our skin. It is important to provide our body with enough collagen and other nutrients to slow down the aging process of the skin and achieve radiant and healthy-looking skin.
Marine Collagen's COMPLEX formula has been developed by combining 8 active ingredients that act in synergy to enhance their benefits for the health of our skin, 2 of which are hydrolyzed marine collagen and hyaluronic acid.
Hyaluronic acid has a high capacity to retain moisture and provide deep hydration to the skin, properties that are enhanced by marine collagen, such that in combination their hydrating powers are more effective and the skin has a smoother appearance.
In addition, collagen is a protein that helps strengthen the supporting structures of the skin, which contributes to reducing the appearance of wrinkles and sagging. These beneficial effects are combined with hyaluronic acid's ability to promote the elasticity of the skin by keeping it hydrated, improving its overall appearance.
THE SECRET TO RADIANT SKIN: MARINE COLLAGEN COMPLEX!
If we haven't already managed to convince you to try Marine Collagen Complex, we invite you to take a look at our website and try it once and for all, as it is sure to become your favourite product for achieving firmer and more radiant skin.