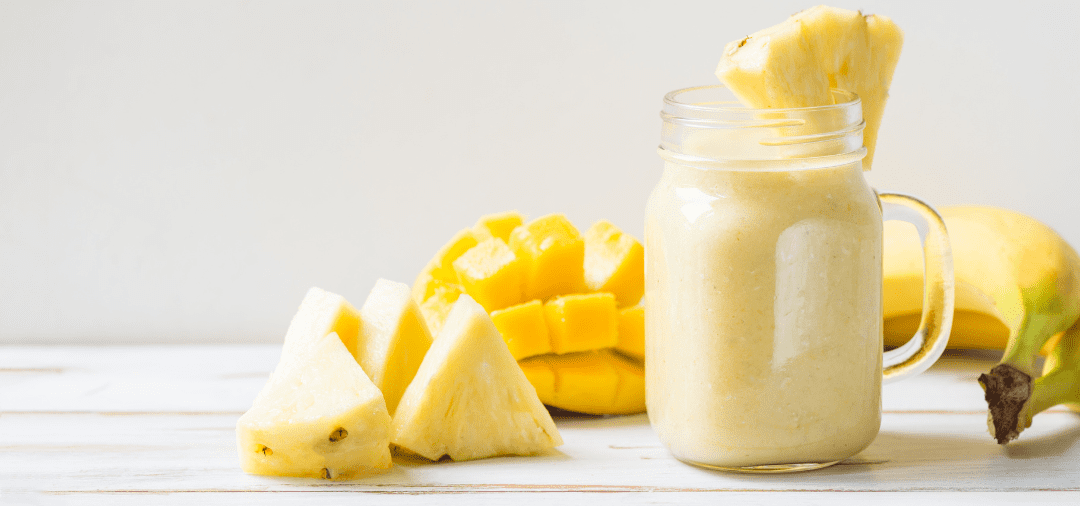 Anti-inflammatory and cleansing banana, pineapple, chia and turmeric smoothie
Now that the hot weather is coming, we feel full, and we may suffer from stomach and intestinal troubles due to holidays and excessive eating.
Turmeric is a plant whose active ingredient, curcumin, has a powerful anti-inflammatory and antioxidant effect. Among other uses, it has traditionally been used to treat digestives problems.
In our Turmeric Curcumin Complex we have combined it with black pepper, whose main ingredient, piperine, increases turmeric absorption, along with ginger, whose anti-inflammatory and antioxidant effect acts in synergy with it.
Today, we suggest an enjoyable way of taking this supplement in the shape of a smoothie, along with fruit and seeds, to relieve intestinal discomfort and to cleanse the liver.
We recommend taking this supplement with food, so it could be a good option for drinking at breakfast or with your afternoon snack.
This Nutralie article provides you with a recipe to make your smoothies even healthier, to give you more benefits and a touch of colour.
INGREDIENTS
2 Turmeric Curcumin Complex capsules
1 Banana
1 Slice of pineapple
1 Teaspoonful of chia seeds
INSTRUCTIONS
Peel and cut the banana and pineapple into pieces.
Add the banana, pineapple and a teaspoon of chia seeds to a blender cup.
Open 2 Turmeric Curcumin Complex capsules and pour the contents into the blender cup.
Blend all the ingredients until they have a good texture, serve and it's ready to drink!
The combination of all these ingredient provides you with the necessary nutrients to achieve an inti-inflammatory and antioxidant effect.
BANANA
This fruit provides you with complex carbohydrates, which are necessary to start the day. It is rich in fibre, vitamin C and potassium, which helps to regulate appetite, digestion and arterial pressure. It also contains tryptophan, which helps you to regulate stress and mood.
PINEAPPLE
Pineapple is rich is bromelain, an enzyme with digestive, anti-inflammatory and antioxidant properties, as well as containing large amounts of water and fibre, which helps to improve the digestion process and to relieve symptoms of indigestion.
CHIA
These seeds are rich in flavonoids, compounds with antioxidant properties. They also contain a large amount of insoluble fibre which helps to keep you regular and control appetite.
IMPROVE YOUR HEALTH WITH OUR TURMERIC CURCUMA COMPLEX
You can use different fruit combinations to make your smoothies, such as mango, coconut, apple, pear, etc. and give your breakfasts and afternoon snacks a touch of fun.
What are you waiting for? Give it a try!