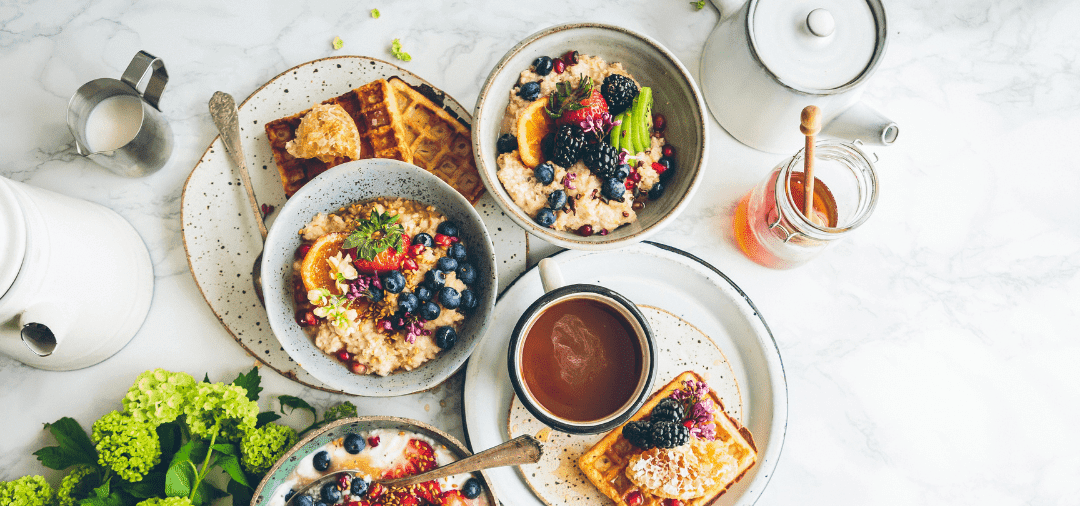 4 great breakfasts to give you energy in the morning
Breakfast is an essential meal, as it gives us the energy we need to face a new day. Many people consider it to be the most important meal of the day, because it is a time when we eat food after many hours without eating anything at all. Our body and mind therefore require this morning energy intake in order to perform optimally. 
However, many people still skip breakfast, mistakenly thinking that this will speed up their slimming process. This can slow down the metabolism and encourage fat accumulation. The best thing to do, therefore, is to opt for a healthy yet energising breakfast. In this article, we've come up with up to 4 easy-to-prepare homemade breakfasts that will give you plenty of energy in the morning. 
1. Avocado breakfast: a social phenomenon
In recent years, avocado has become a trendy food. To understand this social phenomenon, it is necessary to consider the many benefits of this fruit, which originates from Latin America. Among its properties, we can highlight, for example, that it is rich in minerals such as magnesium and potassium, which contribute to the functioning of the nervous and muscular system. It is also a natural source of energy, has a high vitamin content, such as vitamins B5, B6, C, E and K, and helps to maintain the figure.
Avocado is most commonly spread on wholemeal toast. If you want to add a little more flavour to your breakfast, you can add something else, such as salmon, tuna or even an egg. 
If you don't have a lot of time to prepare a more elaborate breakfast, avocado toast is a great plan. In just a few minutes you will have your homemade breakfast ready, and with a good dose of energy.
2. Oats: a healthy and energetic ally for our mornings
There are many ways of incorporating oats into our diet. The truth is that, due to its nutritional composition, with proteins and complex carbohydrates, it is a food that provides us with a lot of energy. As if this were not enough, we should also bear in mind that it increases the feeling of satiety and is a good ally for weight control and keeping in shape.
Among the numerous possibilities for preparing a breakfast with oatmeal, the bowl of oatmeal with milk or cereal bars stand out, which are easier to prepare, as well as its combination with certain fruits, such as strawberries. 
There are also other options, such as overnight oats or porridge with oat flakes, which are a little more sophisticated. In these two cases, in particular, we can prepare breakfast the night before, for greater convenience.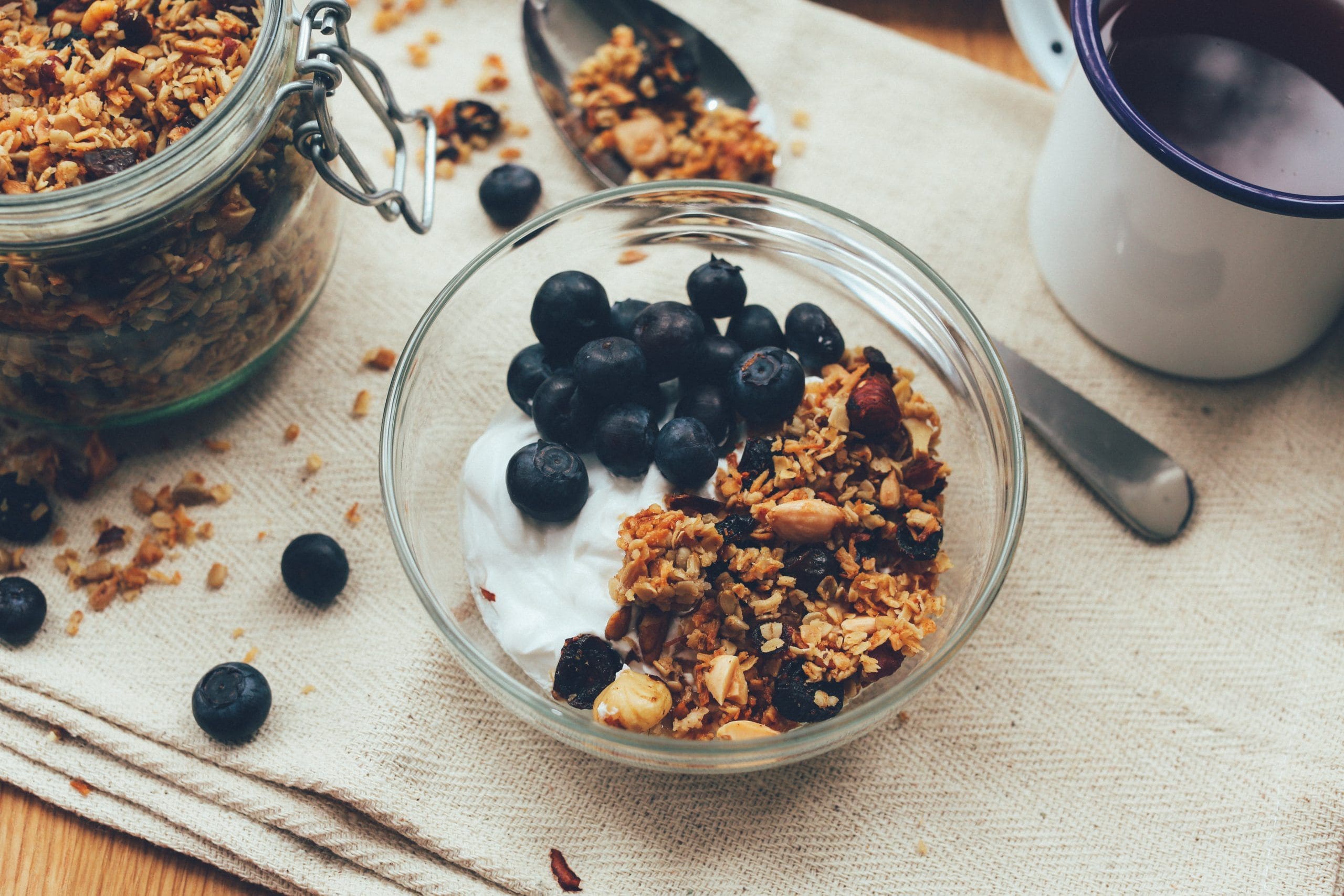 3.The protein and minerals of yoghurt and the energy of muesli: a true two-for-one
Dairy enthusiasts can also enjoy a good, simple, homemade breakfast with the energy they need to get through the day. 
In this respect, we would like to highlight yoghurt with muesli for its full range of properties. Among other advantages, yoghurt, as a dairy product, provides us with proteins and minerals such as calcium. Meanwhile, muesli helps us to get the right amount of energy. Yoghurt with muesli is therefore a real two-for-one for our day. If we want, we can opt for more complex preparations, such as homemade curd with muesli.  
4. Smoothies and natural fruit juices
Finally, we could not ignore, in our homemade breakfast, certain drinks, such as smoothies and natural fruit juices. In the first case, we can opt, for example, for a peanut smoothie, which provides protein, carbohydrates and energy, with natural sugars. Smoothies are a good accompaniment to our diet. 
In the case of fruit juices, they are ideal for a morning pick-me-up. However, it is recommended to drink only one or two glasses. When preparing it, we have a wide variety of fruits to choose from, such as mango, mandarin or banana. 
Combine these breakfasts with your Nutralie food supplement
The outstanding preparations, ideal for a healthy and balanced diet, can be combined with Nutralie food supplements to achieve an extra supply of energy. In this line, some of our own products, such as Turmeric Complex, Multivitamins Complex Natural, Immunity Booster Complex or Collagen Complex, are recommended to be ingested during breakfast.
Depending on our diet and our needs, we can choose one or the other. For example, Turmeric Complex can be very interesting for people who follow a vegetarian or vegan diet, or who are simply in favour of ORGANIC products.
If we do sport and want a significant energy boost, Multivitamins Complex Natural can be our complement. Thanks to the presence of vitamins B1, B2, B3, B6, B12 and C, it contributes to normal energy metabolism, and thanks to magnesium and iron, it helps to reduce tiredness and fatigue. 
On the other hand, Immunity Booster Complex can be very useful if we want to protect our immune system, as well as if we want, as in the case of Multivitamins Complex Natural, an important energy support. 
And finally, Collagen Complex, being so complete, can represent the synthesis of many of the benefits proposed in other food supplements. For example, it also provides extra energy, helps protect the immune system and is ideal for people who do physical exercise. 
We are what we eat for breakfast
As we have seen, breakfast is an essential meal if we want to maintain healthy and energetic eating habits. Breakfast is key to performing well every day, both physically and mentally. 
There are many options for a good breakfast, and in this article we have summarised just a few that are particularly appreciated for their properties and, in particular, for their energy supply. Enjoying a tasty, healthy and energetic breakfast is possible, and indeed recommended. In this respect, food supplements are a great help because of their characteristics.